Traveling on your RV is such an exciting experience, but sometimes you cannot avoid being "off-track" or in cases of emergency on the road, where do you have to go? If you have to shop for something, where and what is the nearest store to where you're at? With the power of technology, why not utilize it, right?
The Google Maps free app for Android phones and tablets makes navigating your world faster and easier. Find the best spots in town and the information you need to get there. Voice-guided GPS navigation for driving, biking, and walking. Transit directions and maps for over 15,000 towns and cities.
Take your love of camping every where with these fun camping apps. Try the Jigsaw Puzzles, Black Jack, Slots, Match 3 & Word Search games for adults. They are all camping related and tons of fun to play! http://rving.how/camping-fun-apps-for-adults/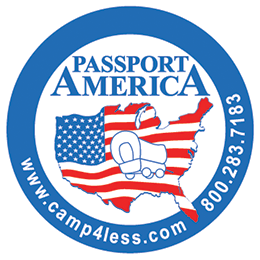 Passport America invented the 50% Discount Camping Club in 1992 and has continued to improve on that great concept. Over 1900 campgrounds across the US, Canada, and Mexico are currently participating in the Passport America Program, with new parks joining daily. Although our concept has often been imitated Passport America is still the best value, lowest price, and the World's Largest network of Quality Campgrounds of its kind.
Photo: www.passport-america.com
Another free-app. Find Cheap Gas Prices . Gas prices can vary by up to 20 cents per gallon or more. GasBuddy helps you find the cheapest gas prices with one tap. Find cheapest gas near you. Find cheapest gas by city/zip/postal code. Report gas prices to help other people find cheap gas and the chance of winning $100 of gas every day!
Photo: www.bet.com
When RVs have to go… we know where to go! Need to access Sanidumps.com for RV dump stations while on the road? Search for RV dump stations from your current GPS location while you are on the road, or search by a city of your choosing! Get up-to-date information about RV dump stations. Save 20 of your favorite sites on your mobile device! Get turn-by-turn directions from your current location to the site, provided by Google Directions.
Photo: cn.appszoom.com
The newly redesigned WeatherBug® Android app offers real-time, neighborhood-level weather forecasts from our own weather network (the largest in the world). Plus, get the fastest severe weather alerts and exclusive Spark™ lightning proximity alerts that tell you exactly how far away lightning is to you.
Photo: www.earthnetworks.com
The most popular camping app gets better all year long. It is the revolutionary app that lets you find and filter both places and services with or without internet. From resorts to parking lots, extensive filters help you find exactly what you want year after year for a one time price and no ads.
Photo: www.androidpit.com
Walmart.com is a lot like your neighborhood Walmart store. We feature a great selection of high-quality merchandise, friendly service and, of course, Every Day Low Prices. We also have another goal: to bring you the best shopping experience on the Internet.
Photo: www.forbes.com
SatFinder (Satellite Finder) is a tool which will help you to set up satellite dish. It will give you azimuth, elevation and LNB tilt for your location (based on GPS) and chosen satellite from list. The result is shown both as numeric data and graphical on google maps. It has also built in compass which will help you to find proper satellite azimuth. It also can use augmented reality to show where is satellite on camera view.
Photo: play.google.com
These are just some of the apps that you should have on your gadgets. Their services will definitely assure your RVing trip worry-free. Happy RVing!