Photo: attackofthecute.com
Traveling on your RV is such a great experience especially if shared with the whole family. But isn't your pet cat a family member too? Leaving them behind is such a heart break. So, why don't you have them stick around your RV as you hit the road to adventure? Better idea right? Now that is called "family". Although some felines do not want the idea of "travelling", I suggest you find out the things you need to consider before you bring your cuddly cats along.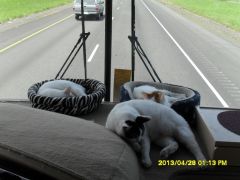 First: Decide what type of Cat you have – Our feline members have different personalities too so you better know them well enough for you to deal with them properly. There is an "inside only cat", an "outside only cat", the "inside and outside cat" and the "follower or loner cat".
Photo: community.fmca.com
Second: Get your Cat used to RVing – This means training your cats – so you need to invest in patience.
Photo: www.doityourselfrv.com
Photo: rving.com
Third: Things you need to bring for your Kitty – Food, pet carrier, a good litter box, toys and a lot more.
If you think those THREE pointers are enough well, there are more that you need to know before bringing your feline family along your journey. For sure this will make you an expert.